Artist's Proof – Printmaking Group Exhibition at Visual Voice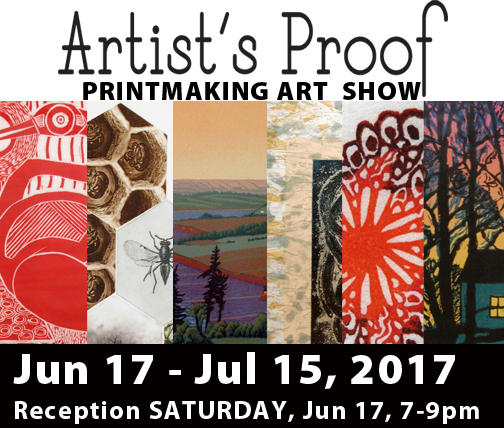 You are invited to Visual Voice Fine Art's printmaking show: Artist's Proof.
The exhibit's title refers to the first good print pulled by a printmaker in the process of creating an edition, and for this show, it also speaks about the lengthy process of printmaking as a "proof" of the artist's dedication. See the great variety of techniques, styles and subjects from some of the best Nova Scotian printmakers from across the province in this art show with something for everyone to enjoy!
Featuring the work of Kate Georgallas, Ed Porter, Kath Kornelsen, Diana Baldwin, Robert Rutherford, Maria Doering, Bob Hainstock, Rob Maloney, Judith Leidl, Nuri Guerra and introducing Anna Syperek and Bonnie Baker.
The opening reception is Saturday, June 17 from 7:00 to 9:00 pm, join us for refreshments, to view the art and to meet the artists. The exhibit runs from June 19 to July 15, 2017. Free Admission.