Maria's classes at NSCAD School of Extended Studies
What a better way to start the year than to help you destress by learning something new in a relaxed and friendly environment? Maria is at it again teaching two 7-week courses at the NSCAD School of Extended Studies. Use the professional printmaking facilities to learn something new. This term Maria is going to teach Monotype and Screen printing please find below some information about the two classes. Screen printing is filling up quickly, and there is still much space in Monotype, so if you prefer less crowded classes, Monotype is perfect for you!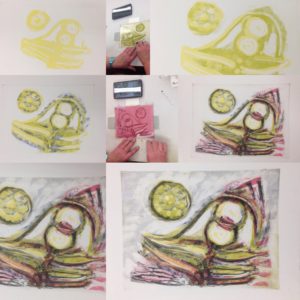 Monotype
Monotype is a fun and very experimental printmaking technique where instead of printing editions you only create one-of-a-kind pieces. Each week you will learn different approaches ranging from Black & White to multi-colored and multi layered Monotype prints with the use of various inks, dry media and found objects on paper. No previous experience required. Please bring sketchbook or note pad, pencil, fine point Sharpie marker and an apron or old t-shirt to the first class. Class Limit is 10.
Registration and withdrawal deadline: January 31, 2017
Course Code:

ESPR-0111 [Register Online]

 Instructor:

Maria Doering

 Site:


H320, 5163 Duke Street

Date / Time:

Wed Feb 8-March 29 , 6:30–9:30pm (7 sessions)
(no class on Feb 15)

 Tuition:

$275.00 + HST

Screenprinting
Screen printing, also known as Silkscreen or Serigraphy, is a fun printing technique that doesn't
take too much set up to use at home. In this course, students will learn how to screen print
through the use of hand-cut stencils. The class will include exposure to different ways of cutting stencils, mixing inks, registering color layers, setting up the screen and printing.
Registration and withdrawal deadline: February 1, 2017
| | |
| --- | --- |
| Course Code: | ESPR-012 [Register Online] |
|  Instructor: | Maria Doering |
|  Site: | H320, 5163 Duke Street |
|  Date / Time: | Tue, Feb 7 to March 21, 6:30pm-9:30pm (7 sessions) |
|  Tuition: | $275.00 + HST |