Workshop at Visual Voice and Exhibition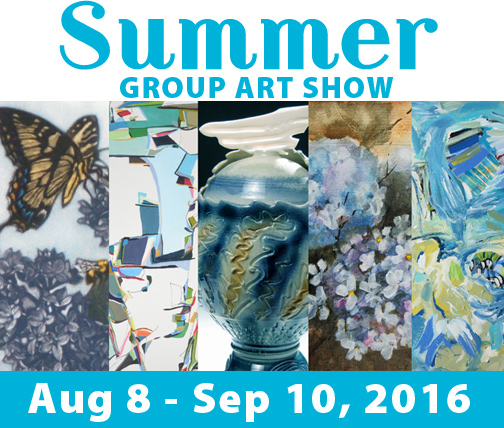 Visual Voice Fine Art presents its annual Summer group art show, a celebration of the best of the season.
The show features Nova Scotian artists: Diana Baldwin, Judy Arsenault, Carol Morrison, Twila Robar-DeCoste, Maria Doering, Kath Rutherford, Nora Gross, Barbara McLean, Carol Smeraldo, Joanne Solway, Ellen Moershel, Kristiina Lehtonen, Judith Leidl and Rosa Carr. On display are landscapes, animals, abstract, flowers, and more. The media and techniques are just as varied: sculpture, watercolour, printmaking, collage, oil, acrylic, and more.
A great show with something for everyone to love.
Please NOTE there is NO opening reception for this show.
Don't forget to come in an see the show, it runs from Monday, Aug 8 to Saturday, September 10. The gallery's regular hours are: Mondays, Wednesdays, Fridays, and Saturdays from 12:30 to 5:00 pm. Any other time by appointment 902-VIEWING (843-9464).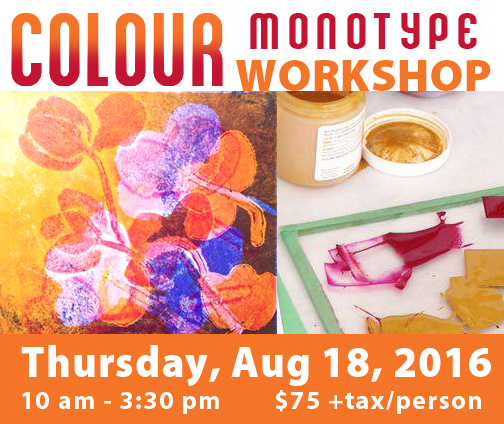 Join us for another fun day of printmaking at Visual Voice.
Monotype is a very experimental and direct process of image creation through the use of printmaking equipment. You will not be creating an edition of multiples but instead remove ink from a plate with various rags, Q-tips, and brushes and found materials to create a single print. You may create up to 10 different images during this workshop using multiple colours as well as multiple layers.
You can come prepared with an image idea or spend the day experimenting with found materials with this much more direct and painterly printmaking technique. You do not need previous knowledge of printmaking to participate in this workshop. Please bring an apron or old t-shirt and any thin/flat found materials like dried leaves, thread, paper cut outs. If you can't think of anything, not to worry, there will be materials supplied as well.
If the weather is forecast to be beautiful we are planning on setting up the workshop outside next to the gallery, in case of rain it will be inside the gallery space.
The instructor is artist and printmaker Maria Doering, who teaches at NSCAD and has taught 3 other workshops at Visual Voice. *Includes the use of a press!
Thurs, Aug 18 from 10:00 am to 3:30 pm for $75+tax per person
ALL materials included.
Lunch $8+tax extra (soup & half sandwich), or bring your own.
PreRegistration Required call 902-843-9464